The Project
A commission from a client in New Haven, CT as a surprise gift for her husband who is a long time Yale professor. A large (about 2'x3') mahogany panel that features personally meaningful symbols and items of the many facets of his academic, professional and personal life; some are obvious and others rather cryptic.
The Design
Inspired by old personal bookplates and 18th century trade cards. The client gave me all the information and what she thought would be meaningful to him but it was my job to bring it all together. The challenge was to compose all the seemingly unconnected things in a way that made sense with a narrative; so much so that the carving itself was the easy part. The design process was what I imagine writing a book or composing a piece of music is like; there was so much editing and sketching and moving things around again and again and staring at it and working though the writer's block. I had to try lots of ideas and be open to changing mid-course some ideas I had been holding on to that were actually holding me back. In the end, I am about as happy as I could be -as my own worst critic- with the results. Even more satisfying, was being able to present it in person to the recipient and his wife who were just plain thrilled and he was very surprised and moved by such a personal gift. It hangs in his home office above the fireplace.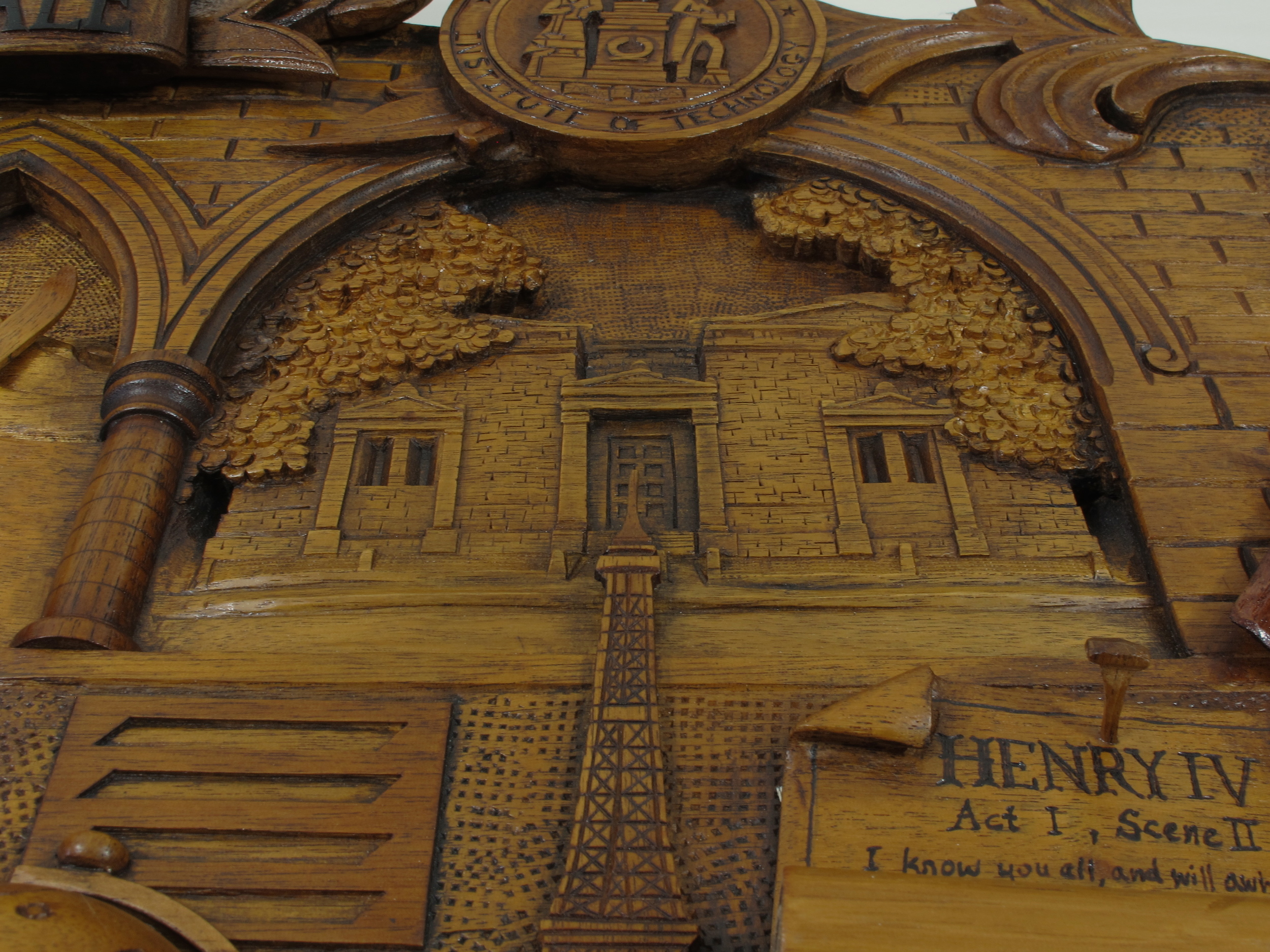 The Process
A lot of the elements like the Yale University crest were applied and other elements like the arches and buildings were carved in relief. The small columns were turned on the lathe and split in half. This is a pretty typical carving technique that saves a lot of time removing material and gives it more depth which makes it interesting and creates more shadows. It gave me a lot of flexibility in the composition as well because I could re-make something that wasn't right and not commit until I was happy. I didn't glue anything down until a week or so before deadline. I added the leaves and little cartouche with the monogram at the bottom last minute because the flat bottom was boring to me and I thought his initials would be nice to work in. The finishing is a crucial last step. That process starts with burnishing the surface and carved details with a stiff brush and softening any sharp corners with very fine sandpaper. I then dyed certain parts darker than others to help with the contrast. I brushed on many layers of shellac and burnished a lot more. To give it some apparent age, I dug out some old ebony stain and scraped the bottom of the can to get the concentrated glop and mixed it with a little brow gel stain too. I brushed that into all the details and the wiped it off for a glaze effect.